Joseph and I went to the Netherlands during his school's autumn break where we stayed at my brother's in Amsterdam.
Visiting Joseph's birth city, Almere Stad. Above is Almere's central station, below is Jo's birth hospital. Back in February 2004 we left Almere with 3.5 months old Joseph. On 28 October 2009, he came back as a big kid (almost-six-year-old). Unlike other 'classic' cities in the Netherlands which basically look the same since the first time I set foot in Holland in 1978, Almere keeps on changing. It's a young city that diligently builds new infrastructures within a short time.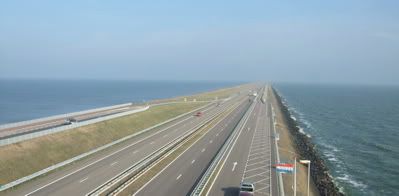 My brother and sister-in-law brought us to Afsluitdijk, the first layer of many dams that prevents the Netherlands from drowning. On the first picture, we can see how the dam separates the sea water (on the left side) from the inner water (right side). On the second picture, Joseph and his auntie were posing on the wall explaining about the dam. My brother told me, our father brought the whole family to Afsluitdijk not long after we arrived in Holland.
Of course seeing some friends were part of the agenda. Above: some of my ex-colleagues from our office in Amsterdam (Susi, Ambar, Mieke) at a Korean Restaurant in Amstelveen. Below: Multilingual mommies (Christine, Ambar, Dian and Astrid) at Christine's home in Utrecht, lots of laughs, good chat and delicious Indonesian food.
Joseph and I also met some online friends,
Lorraine of Chez Lorraine
and
the Pelopor clan (Jerry, Bonnie and Ingmar)
. Jerry was the coolest grandpa, father and father-in-law I've ever met. Bonnie was warm and out going, Ingmar charmed Joseph the moment he entered the restaurant. As for Lorraine, it's our 2nd meeting and I felt very comfy being around this wise lady. Jerry, Bonnie and Ingmar: if you guys don't mind, I would love to include the picture of us here as well :D.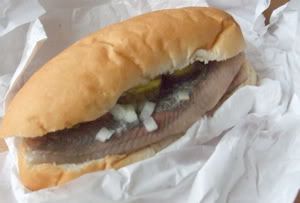 Of course, I cannot miss the chance to munch again at this Dutch
broodje haring
, complete with its smelly raw onion and pickles (as if the raw herring is not smelly enough). I missed it so much that I ate 3 at once. LOL!!
I visited Holland three times since we moved to Germany in 2008 (the previous two was in
Oct 08
and
April 09
) and it has never failed to give me good vibes. Last weeks' visit was a good 'closure' before we leave for Australia.
Bye2 Holland, for now. I will return, as always!!!