As I'm often caught in this desperate situation
, I bought some games online. I was spending some hard times at the beginning because Jo stubbornly wanted to force his own ways while playing. Gratefully after numbers of trials and errors *and yells and tears* Jo can now feel the thrills of the games. The ground rules for a fun and success mama-Jo time are to keep it short and simple, play only one game at a time, make it as morning and late evening rituals, and constantly remind him to focus and to put his toys away.
Other than keeping everybody busy and happy, the games enrich his 3 languages a lot. He uses Indonesian while playing with mama, French when with papa, and hear English when playing with both papa and mama.
Puzzles under construction. Two pieces a day keep excitement alive. He compares picture on the box to pieces we are placing.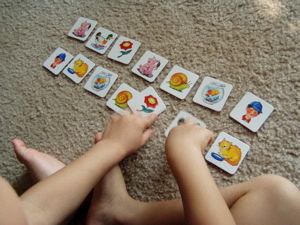 Memory Game. We play two rows only, and I rotate the pictures each day. He names and finds pairs of all cards before flipping them down.
This Cariboo
is awesome. He learns to listen to the instruction and find the match on the doors. It involves numbers, shapes and colors. The fun part is, it has a key to open the doors so Joseph has a good time unlocking each.

Hissss a snake game
. He counts and matches the colors.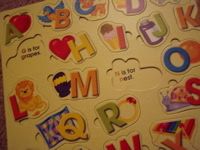 Uh, almost forgot to include this one-dollar abc puzzle.