mamfiets
*mom's bike* with her 20 mo daughter on the back saddle.
A
mamfiets
is almost a must for moms in Holland. You can ride it with your younger kid at the front, and the older at the back. It's beautiful, sturdy, tremendously balanced with up to 7 gears, and costs between E500-E2000 .. pricey but worth all the money. Moms use it for everything: to drop their kids at school, go to work, do the grocery, enjoy life, etc etc. It's astonishing to see how skillful those moms maneuvering their heavy loaded
mamfietsen
throughout Amsterdam's narrow and busy streets.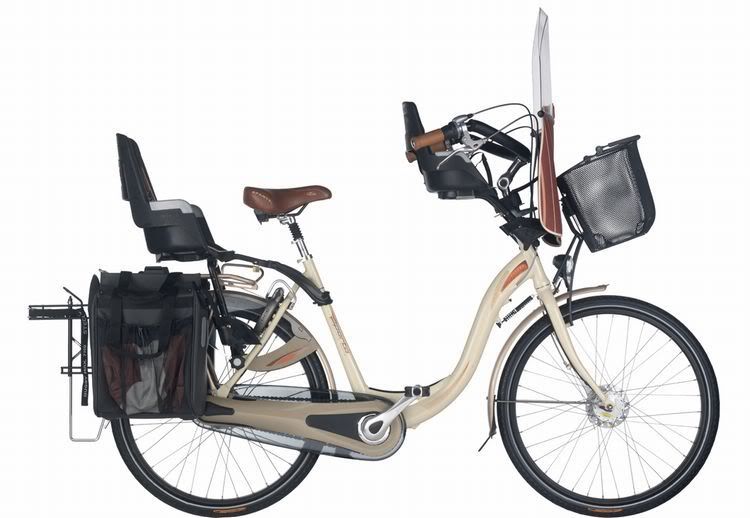 I seriously want to ride the mamfiets with my kids ... it's one thing I never did while living in Holland *we left for the US when Joseph was a newborn*. If we ever live over there again, Jo and Lu will definitely enjoy the Dutch biking experience as much as I did when I was young.

Age 4 in Wassenaar : a fond memory of me going around on the back of my dad's bike. When my big brothers join the ride, they took turn in bringing me on their bikes.
Dad would bring me to the woods or simply go around our neighbourhood.
Age 6 in Wassenaar: feeling proud with my brand new bike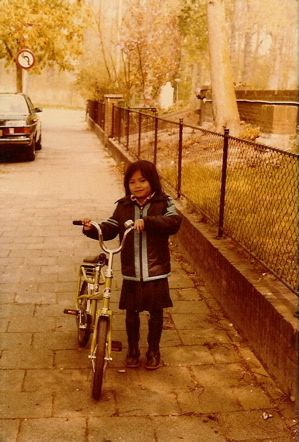 I would ride it to school, to the woods, along the canals, to the playground like other kids in Holland.
Age 20ish in Amsterdam: going everywhere with my cheap bike :D!

I bought it on the bridge in front of my campus at Oudemanhuispoort. When Nico and I were still dating, we would ride our bikes side by side on our dates :D. After we were married and still living in Amsterdam, he would bring me on this bike to work nearly every morning ... ah how romantic!! *Joseph was born in Almere, 3 years later*
A friend of mine, who is living in the Netherlands, told me how wonderful it is to ride a