With husband being on travel for the whole month of November, we have been video-skyping each other almost everyday. Our topic is always about the move, no romance whatsoever. Paperwork comes from both Germany and Australia and we need to sort out everything together. For example, on one side we have to stop our contracts with, among others, the phone company and apartment owner in Munich. On the other side, the Australian immigration asks, among many many other things, Certificates Good of Conducts from the countries we've been living for the past 10 years (3 countries for hubby, and 4 for myself).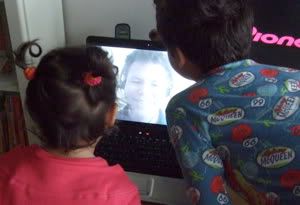 Busy and tired? Sure. Preparing to move is a pain. However, relocating between oceans means the movers will pack every single thing we bring inside the container. So like the Indonesians always say: we are still lucky (
masih untung
) there will be no packing hassle on our side. As a truly Indonesian myself, I keep on counting my blessings to see the silver lining between these crazy days. Like luckily we have an agent who helps taking care of our visa and received it in a lightning speed, luckily our kids are already in the French schooling system in Munich so since a month ago they are already listed in the French school in Australia, luckily husband and I are a good team when it comes to relocation, and so forth.
We told our kids about the move before husband left for travel. Joseph, at 6 years old, was sad at the beginning, as he understood he will leave his friends and girl friend(!) behind. After a while, he became excited and asked questions about Australia. "Will there be active volcanoes down there?", "Are we going to experience heavy earthquakes?", "Will there be living mummies walking on the streets?" and hundreds of other weird questions related to his current interests. Louise, at 2 years and 7 months old, was simply too young to understand.
A month from today I will be leaving Europe for the 4th time in my life. The previous three were in 1981, 1999 and 2004 and it's tough to think I will be away again from this great continent. Regular readers of this blog might know that I've been trying to analyze my TCK identity. It's a blessing, and a curse, to have grown-up in many lands and to keep on living nomadically as adult. The experience has taught me to view things from different perspectives: to see the beauty in ugly, feel the pleasure in pain, and smell the nice perfume inside a rotten trash. These enable me to befriend those from various backgrounds, fall in love to every place I live in and cherish every bad moment I go trough. Somehow living here and there has toughened me: prepare everything until the smallest detail, work very hard to reach my goal, set aside attitudes I consider mellow and find ways to overcome obstacles.
Yet being here and there lead me to face an accumulated broken-heart and homesickness towards everything I touch, see, hear and smell. It turned me into a sensitive-melancholic person. A song, story, poem, photo, painting or picture brings back memories, moves me easily and even puts me in tears. Between dealing with the hustle-and-bustle of our relocation, my mind will go back to the days my brothers and I played together in Wassenaar, weekends in Damascus where my father and I spent at the swimming pool, days when husband and I were dating each other in Amsterdam, university hallways in New Orleans, corners at the Children's Museum in Chicago, the safe and secure feelings that made me fall for Munich, and sad faces of my parents each time my vacation in Jakarta ended.
---------
Last summer The Jakarta Globe interviewed some adult TCK including myself. Title of the article: "Third-Culture Kids Live Life on a Global Stage" and
the link is here
.